Esteban A. Fridman, M.D./Ph.D.
Assistant Professor of Neuroscience

 
Research Overview
My main interest is translational neuropharmacology in neurological disorders without a proven treatment or in which we may be able to move beyond the current gold-standard to improve neurological outcomes. I am particularly interested in dopaminergic neurotransmission and drug development. My main approach involves the use of molecular neuroimaging and selected radiopharmaceuticals aiming at: 1- Finding new biomarkers for the disease of interest by selecting or creating a ligand that targets specific neurotransmitter systems believed to participate in the underlying neurological disorder; 2- Understanding the specific pharmacodynamics underneath the pathophysiology of the disease by manipulating the chosen ligand with acute pharmacological interventions competing with it. 3- Translational neuropharmacology from animals to human use. This clear potential value of a translational molecular neuroimaging strategy at the earliest stages of new drug development is my personal field of interest. The ultimate goal is to bring pharmacodynamics information up to Phase II clinical trials for future innovative neuropharmacological therapeutic interventions for convalescent patients from brain disorders. Due to my previous clinical expertise in the field of neurorehabilitation, my interests are tightly related but not restricted to the treatment of patients convalescent from brain diseases.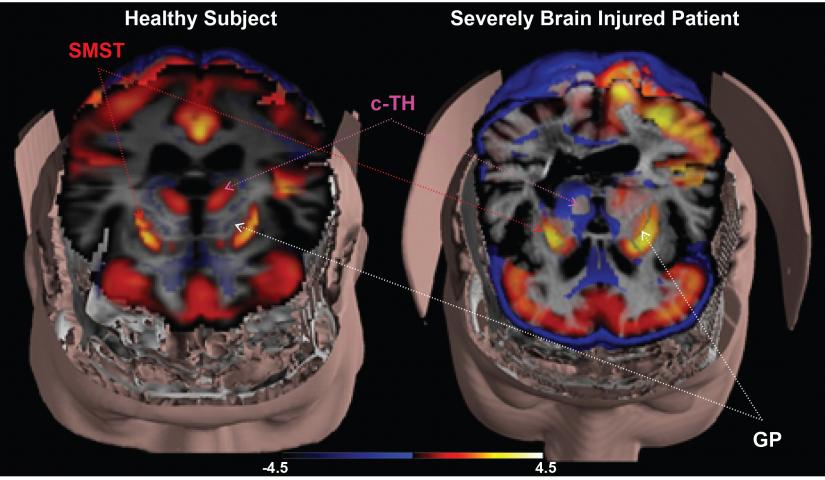 Grant Awards & Publications
-National Grant Award R01 (NS046094), National Institute of Neurological Disorders and Stroke-National Institutes of Health (2003-2007)
-CTSC-NIH Seed Funding Award (UL1TR000457) (2013-2015)
-National Grant Award R21 (NS093268), National Institute of Neurological Disorders and Stroke-National Institutes of Health (2015-2017)
Fridman EA and Schiff ND. Neuromodulation of the conscious state following severe brain injuries. Current Opinion in Neurobiology. 2014; 29:172-177.
Fridman EA, Beattie BJ, Broft A, Laureys S, Schiff ND. Regional cerebral metabolic patterns demonstrate the role of anterior forebrain mesocircuit dysfunction in the severely injured brain. Proc Natl Acad Sci USA. 2014 Apr 29;111(17):6473-8.
Fridman EA, Crespo M, Gomez Argüello S, Degue L, Bohlhalter S, Wheaton L, and Hallett M. Kinematic improvement following Botulinum Toxin-A injection in upper limb spasticity due to stroke. Journal of Neurology, Neurosurgery and Psychiatry 2009; 81:423-427. [Editorial comment J Neurol Neurosurg Psychiatry. 2010 Apr;81(4): 357]
Fridman EA, Krimchansky BZ, Bonetto M, Galperin T, Gamzu E, Leiguarda RC, Zafonte R. Continuous subcutaneous apomorphine for severe disorders of consciousness after traumatic brain injury. Brain Injury 2010; 24:636-41.
Fridman EA, Calvar J, Bonetto M, Gamzu E, Krimchansky BZ, Meli F, Leiguarda RC and Zafonte R. Fast awakening from minimally conscious state with apomorphine, Brain Injury 2009; 23: 172–177
Fridman EA, Immisch I, Hanakawa T, Bohlhalter S, Waldvogel D, Kansaku K, Wheaton L, Wu T, Hallett M. The role of the dorsal stream for gesture production. Neuroimage 2006; 29:417-28.
Fridman EA, Hanakawa T, Chung M, Hummel F, Leiguarda RC, Cohen LG. Reorganization of the human ipsilesional premotor cortex after stroke. Brain 2004; 127: 747-58.
Media
-Forbes, Health, Twilight Zone by Robert Langreth (10.04.04). http://www.forbes.com/forbes/2004/1004/144.html
-Scientific American, Mind & Brain, Consciousness-Raising: Kick-Starting the Brain's Dopamine System May Revive Some Vegetative Patients by Jesse Emspak (March 12, 2010). http://www.scientificamerican.com/article.cfm?id=apomorphine-dopamine-vegetative
-Science Illustrated, Medicinen virker med rekordfart, Af Gorm Palmgren (N17, 2010) http://illvid.dk/gorm-palmgren/medicinen-virker-med-rekordfart
-Weill Cornell Medicine, The 'mesocircuit' may be the key to treating brain-injured patients (Vol. 13, No. 4; 2014) http://weill.cornell.edu/news/publications/pdf/medicine/WCM_vol13_no4.pdf