Josef Anrather, V.M.D.
Professor of Neuroscience
 
Our Mission
The main interest of our laboratory is to elucidate the peripheral immune response after cerebral ischemia and to identify deleterious and protective pathways that are associated with this response.
Lab Members
Dr. Lidia Garcia-Bonilla (Instructor)
Dr. David Brea Lopez (Post-Doc)
Dr. Carrie Poon (Post-Doc)
Research Technicians:
Gianfranco Racchumi
Michelle Murphy
PhD Students:
Xinran Jiang
Goals
Inflammation is a central aspect in the pathophysiology of stroke, a leading-cause of death and serious disability worldwide. Although numerous experimental studies based on immune modulatory therapies have shown promise, attempts to use such strategies in the clinic have not been successful. One of the main reasons is our poor understanding of the post-ischemic inflammation process. While the inflammatory response originates in the ischemic territory, immune cells of primary and secondary lymphoid organs are activated by inflammatory mediators released from the ischemic territory and by neurohumoral signals generated by the ischemic brain. This immune response – a hallmark of experimental and clinical stroke – has deleterious and beneficial components. My laboratory aims to identify molecular and cellular circuits that govern the peripheral immune response to stroke. Specifically, we are interested in:
The role of monocytes as triggers of endogenous neuroprotection.
The function of monocyte-derived macrophages in repair and remodeling processes during subacute and chronic phases of cerebral ischemia.
The role of the gastrointestinal microbiome in shaping the immune response to stroke.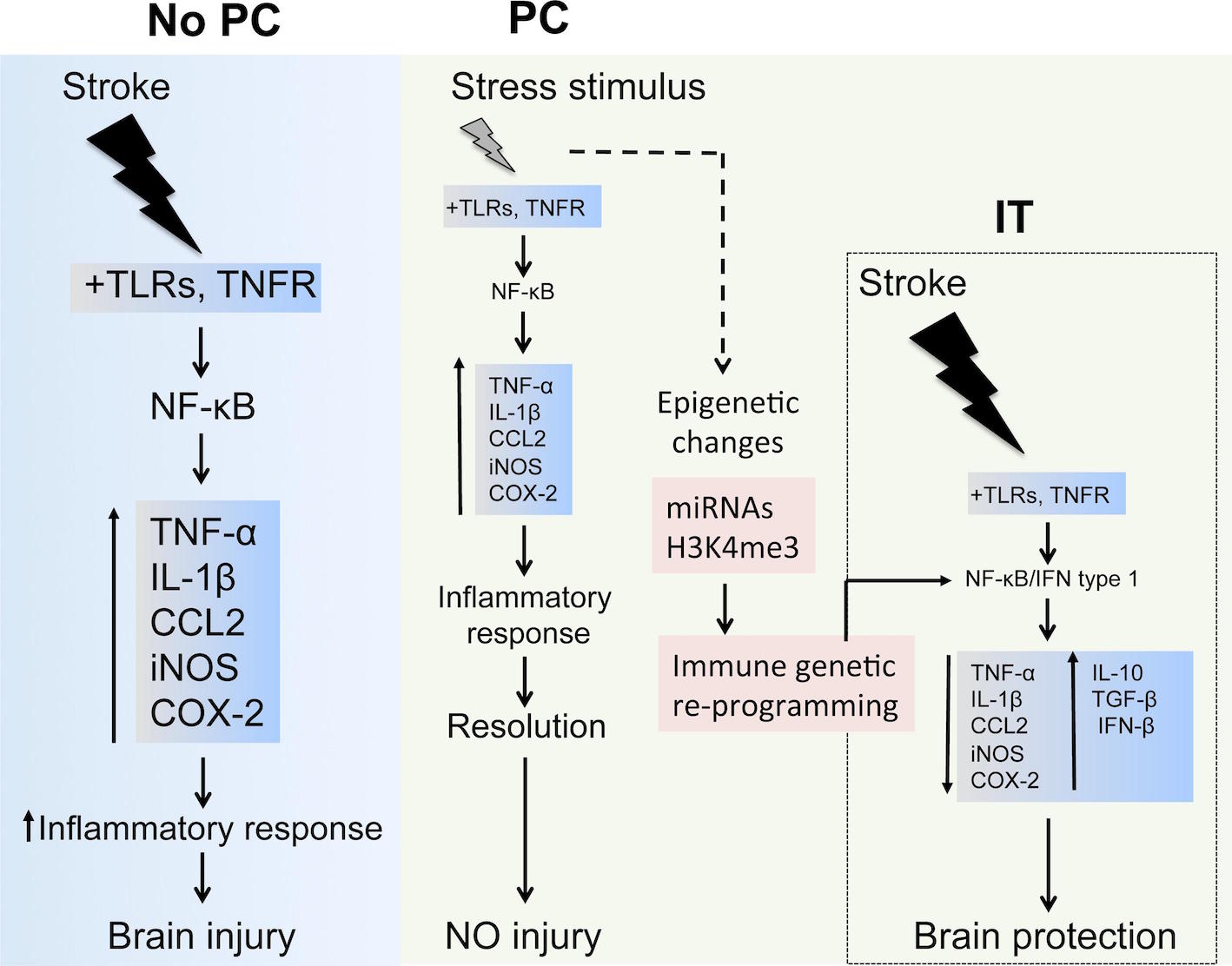 Inflammatory cascades involved in preconditioning
Achievements
Identification of posttranslational modifications that regulate the activity of nuclear NF-κB complexes.
Our laboratory has identified the NOX2 (gp91phox) subunit as a target for NF-κB regulation linking pro-inflammatory signals to reactive oxygen species (ROS) production.
We have identified monocyte subsets that are able to induce cerebral ischemic tolerance.
We have identified a microbiota-gut-brain axis that has a fundamental impact on the immune response after ischemic brain injury and on stroke outcome.
Recent Publications

1.        Benakis C, Brea D, Caballero S, Faraco G, Moore J, Murphy M, Sita G, Racchumi G, Ling L, Pamer EG, Iadecola C, Anrather J. Commensal microbiota affects ischemic stroke outcome by regulating intestinal γδ T cells. Nat. Med. 2016 May;22(5):516–23. PMCID: PMC4860105
2.        Hochrainer K, Pejanovic N, Olaseun VA, Zhang S, Iadecola C, Anrather J. The ubiquitin ligase HERC3 attenuates NF-κB-dependent transcription independently of its enzymatic activity by delivering the RelA subunit for degradation. Nucleic Acids Res. 2015 Nov 16;43(20):9889–904. PMCID: PMC4787756
3.        Garcia-Bonilla L, Racchumi G, Murphy M, Anrather J, Iadecola C. Endothelial CD36 Contributes to Postischemic Brain Injury by Promoting Neutrophil Activation via CSF3. J. Neurosci. 2015 Nov 4;35(44):14783–93. PMCID: PMC4635129
4.        Fu Y, Liu Q, Anrather J, Shi F-D. Immune interventions in stroke. Nat Rev Neurol. 2015 Sep;11(9):524–35. PMCID: PMC4851339
5.        Garcia-Bonilla L, Moore JM, Racchumi G, Zhou P, Butler JM, Iadecola C, Anrather J. Inducible nitric oxide synthase in neutrophils and endothelium contributes to ischemic brain injury in mice. The Journal of Immunology. 2014 Sep 1;193(5):2531–7. PMCID: PMC4147670
6.        Benakis C, Garcia-Bonilla L, Iadecola C, Anrather J. The role of microglia and myeloid immune cells in acute cerebral ischemia. Front Cell Neurosci. 2014;8:461. PMCID: PMC4294142
7.        Garcia-Bonilla L, Benakis C, Moore J, Iadecola C, Anrather J. Immune mechanisms in cerebral ischemic tolerance. Front Neurosci. 2014;8:44. PMCID: PMC3940969
8.        Shimamura M, Zhou P, Casolla B, Qian L, Capone C, Kurinami H, Iadecola C, Anrather J. Prostaglandin E2 type 1 receptors contribute to neuronal apoptosis after transient forebrain ischemia. Journal of Cerebral Blood Flow & Metabolism. 2013 Aug;33(8):1207–14. PMCID: PMC3734771
9.        Hochrainer K, Racchumi G, Anrather J. Site-specific phosphorylation of the p65 protein subunit mediates selective gene expression by differential NF-κB and RNA polymerase II promoter recruitment. J. Biol. Chem. 2013 Jan 4;288(1):285–93. PMCID: PMC3537023
10.      Iadecola C, Anrather J. The immunology of stroke: from mechanisms to translation. Nat. Med. 2011 Jul;17(7):796–808. PMCID: PMC3137275
Collaborators
Robert Darnell (Rockefeller)
Karin Hochrainer (BMRI)
Costantino Iadecola (BMRI)
Chris Schaffer (Cornell Ithaca)
Miguel Soares (Instituto Gulbenkian de Ciência, Oeiras, Portugal)
Timothy Vartanian (BMRI)
Focus Areas:
Neurovascular Biology and Stroke
Lab Head(s):
Anrather, Josef Iadecola, Costantino
Lab Researchers:
Hochrainer, Karin Wang, Gang Zhou, Ping Faraco, Giuseppe Garcia-Bonilla, Lidia Sung Ji Ahn