Gregory A. Petsko, D. Phil.
Arthur J. Mahon Professor of Neurology and Neuroscience
Our Mission
The primary mission of the lab is to find a treatment or preventive therapy for one or more of the major neurodegenerative diseases: Alzheimer's disease, Parkinson's disease, Frontotemporal dementia, Lewy Body Dementia, Multiple System Atrophy, Progressive Supranuclear Palsy, and Amyotrophic Lateral Sclerosis.  We are also interested in possible therapeutics for some of the lysosomal storage diseases such as Sandhof disease.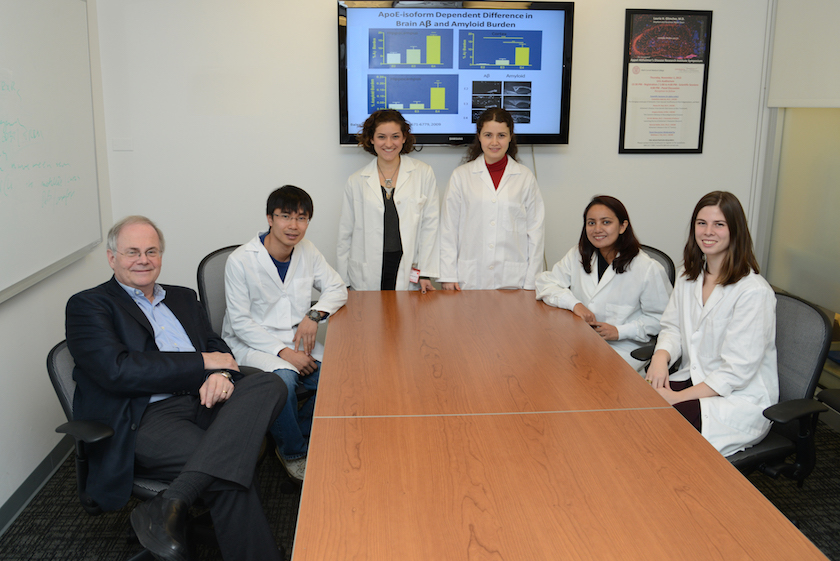 Lab Members
Ireena Bagai        
Anindita Bose
Rebecca Cox
Andrew Daab
Raji Edayathumangalam
Burce Ergel
Miriam Halimi
Ce Feng Liu
Short-term Goals
The short-term goals of the lab are to continue the pre-clinical development of two drugs for Alzheimer's disease, which target protein trafficking pathways; two drugs for Parkinson's disease and Lewy Body dementia, which target a protease that converts alpha-synuclein to a more high aggregation-prone form; and a gene therapy for ALS (Lou Gehrig's disease) and some forms of frontotemporal dementia.  We also intend to develop additional therapeutic targets in the pathways that these treatments are aimed at.   It is our hope that one or more of these treatments may be in clinical trials within the next few years.
Long-term Goals
The long-term goals of the lab are to see our treatments tested in people.  This means Phase I clinical trials for toxicity; Phase II clinical trials for efficacy; and eventually Phase III clinical trials leading to approved use of the treatment for a neurodegenerative disease.  While we suspect that our treatments, if they are successful at all, are most likely to be preventive rather than disease-modifying, we still have some hope that they may do both.  At the very least, we hope that the testing of these therapeutics in both models of disease and, eventually, actual human patients, may provide new insights into the mechanisms of these disorders and lead to new approaches to their cure.
In addition to this translational research, we also have a project aimed at developing a new approach to understanding how small molecule catalysts, which are used throughout the chemical and pharmaceutical industries,  actually work.  In this approach, which we call reverse enzymology, the catalysts in question are attached to an easily crystallizable protein and the resulting novel complex is then studied by the techniques we developed over the years for understanding enzymatic catalysis.   
Achievements
-Determined the first three-dimensional structures of proteins involved in both familial and sporadic Parkinson's disease
-Developed a model for ALS in budding yeast and used it to identify a genetic suppressor of toxicity of the two major ALS-associated proteins.
-Identified the protease responsible for cleavage of alpha-synuclein, a crucial early event in Parkinson's disease, and showed that inhibiting this protease could rescue a Parkinson's model in rodents.
-Developed a new therapeutic strategy for Alzheimer's disease based on redirecting protein trafficking in the endocytic pathway.
-Helped to develop pharmacological chaperones for the treatment of Gaucher and Fabry diseases.
Over a thirty year period, developed many of the major techniques now in routine use in structural enzymology and applied them to reveal the structural basis for the catalytic activity of many important enzymes.
-Provided evidence for the dynamic nature of protein structures and mapped the spatial distribution of protein motions for a number of classes of proteins, using techniques developed in the lab.
Recent Publications
Bosco DA, LaVoie MJ, Petsko GA, Ringe D.  "Proteostasis and movement disorders: Parkinson's disease and amyotrophic lateral sclerosis."  Cold Spring Harb Perspect Biol. 3(10):a007500 (2011).
Wang W, Perovic I, Chittuluru J, Kaganovich A, Nguyen LT, Liao J, Auclair JR, Johnson D, Landeru A, Simorellis AK, Ju S, Cookson MR, Asturias FJ, Agar JN, Webb BN, Kang C, Ringe D, Petsko GA, Pochapsky TC, Hoang QQ.  "A soluble α-synuclein construct forms a dynamic tetramer."  Proc Natl Acad Sci U S A. 108(43):17797-11802 (2011).
Bharadwaj PR, Verdile G, Barr RK, Gupta V, Steele JW, Lachenmayer ML, Yue Z, Ehrlich ME, Petsko G, Ju S, Ringe D, Sankovich SE, Caine JM, Macreadie IG, Gandy S, Martins RN.  "Latrepirdine (Dimebon™) Enhances Autophagy and Reduces Intracellular GFP-Aβ42 Levels in Yeast."  J Alzheimers Dis. 32(4): 949-967 (2012).
Steele JW, Ju S, Lachenmayer ML, Liken J, Stock A, Kim SH, Delgado LM, Alfaro IE, Bernales S, Verdile G, Bharadwaj P, Gupta V, Barr R, Friss A, Dolios G, Wang R, Ringe D, Protter AA, Martins RN, Ehrlich ME, Yue Z, Petsko GA, Gandy S.   "Latrepirdine stimulates autophagy and reduces accumulation of α-synuclein in cells and in mouse brain."  Mol Psychiatry. Aug 7. doi: 10.1038/mp.2012.115 (2012).
Steele JW, Lachenmayer ML, Ju S, Stock A, Liken J, Kim SH, Delgado LM, Alfaro IE, Bernales S, Verdile G, Bharadwaj P, Gupta V, Barr R, Friss A, Dolios G, Wang R, Ringe D, Fraser P, Westaway D, St George-Hyslop PH, Szabo P, Relkin NR, Buxbaum JD, Glabe CG, Protter AA, Martins RN, Ehrlich ME, Petsko GA, Yue Z, Gandy S.  "Latrepirdine improves cognition and arrests progression of neuropathology in an Alzheimer's mouse model."  Mol Psychiatry. Jul 31. doi: 10.1038/mp.2012.106 (2012).
Auclair JR, Somasundaran M, Green KM, Evans JE, Schiffer CA, Ringe D, Petsko GA, Agar JN.  "Mass spectrometry tools for analysis of intermolecular interactions."  Methods Mol Biol. 896:387-98 (2012).
Davies CW, Chaney J, Korbel G, Ringe D, Petsko GA, Ploegh H, Das C.  "The co-crystal structure of ubiquitin carboxy-terminal hydrolase L1 (UCHL1) with a tripeptide fluoromethyl ketone (Z-VAE(OMe)-FMK)."  Bioorg Med Chem Lett.  Jun 15;22(12):3900-4 (2012).
Liu CF, Liu D, Momb J, Thomas PW, Lajoie A, Petsko GA, Fast W, Ringe D.  "A Phenylalanine Clamp Controls Substrate Specificity in the Quorum-Quenching Metallo-γ-lactonase from Bacillus thuringiensis."  Biochemistry. Mar 5;52(9):1603-10 (2013).
Sigala PA, Fafarman AT, Schwans JP, Fried SD, Fenn TD, Caaveiro JM, Pybus B, Ringe D, Petsko GA, Boxer SG, Herschlag D.  "Quantitative dissection of hydrogen bond-mediated proton transfer in the ketosteroid isomerase active site."  Proc Natl Acad Sci U S A. Jul 9;110(28): 2552-61 (2013).
Shim JH, Greenblatt MB, Zou W, Huang Z, Wein MN, Brady N, Hu D, Charron J, Brodkin HR, Petsko GA, Zaller D, Zhai B, Gygi S, Glimcher LH, Jones DC. "Schnurri-3 regulates ERK downstream of WNT signaling in osteoblasts."  J Clin Invest. Aug 15. doi:pii: 69443. 10.1172/JCI69443 (2013).
Joint Appointments
Adjunct Professor of Biomedical Engineering at Cornell University in Ithaca
Gyula and Katica Tauber Professor of Biochemistry and Chemistry, Emeritus, at Brandeis University in Waltham, Massachusetts
Focus Areas:
Neurodegeneration