M. Flint Beal, M.D.
Professor of Neuroscience Professor of Neurology
Attending Neurology, New York-Presbyterian Hospital
Our Mission
The main mission of our laboratory is to understand the role of mitochondrial dysfunction and oxidative damage in the pathogenesis of neurodegenerative diseases, and to test the efficacy of novel therapeutic interventions in animal models of these diseases.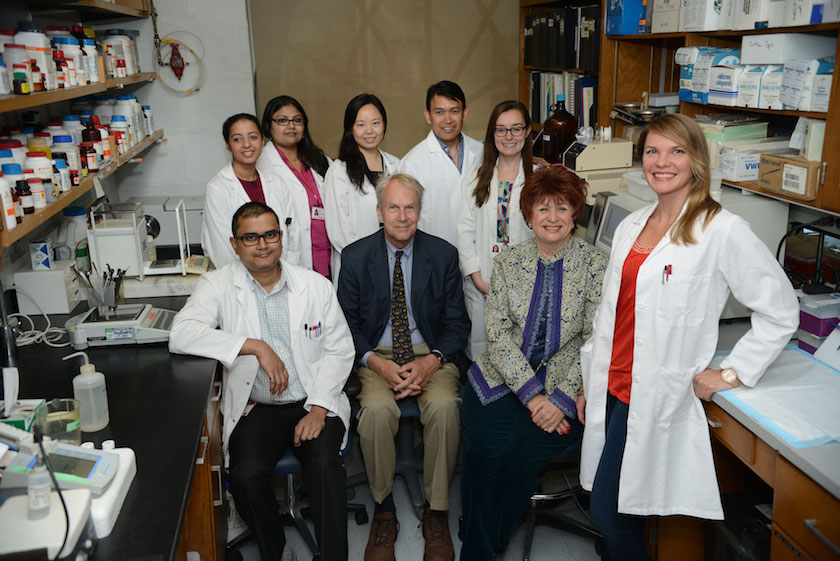 Lab Members
Dr. Noel Y. Calingasan, Ph.D., Asst. Research Professor
Dr. Ashu Johri, Ph.D., Instructor in Neuroscience
Dr. Jiaqi Yao, M.D., Ph.D., Instructor in Neuroscience
Dr. Yevgeniya I. Shurubor, Ph.D., Research Associate
Ms. Linda Metakis, Sr. Lab Manager
Ms. Cliona Stack, Research Technician
Ms. Shari Jainuddin, Research Technician
Goals
We have a research team with extensive expertise in translational neuroscience, and we have advanced new therapies into clinical trials in PD, HD and ALS. We have contributed to studies of human IPS cells which have been induced to become dopaminergic neurons. Over the last few years, we have been studying the role of PGC-1α and sirtuins in neurodegenerative diseases, and continue to work to develop novel therapeutic interventions, including transcriptional modulators of the PGC-1alpha, Nrf2/ARE and hemeoxygenase pathways.
The overall long-term goal of the laboratory is to study mechanisms of neurodegeneration in Alzheimer's Disease, Huntington's Disease, Parkinson's Disease and amyotrophic lateral sclerosis, and to devise therapeutic strategies in mouse models of neurodegenerative diseases by combining genetic and pharmacologic approaches to improve mitochondrial function and attenuate oxidative damage. In our laboratory, we test new neuroprotective agents in animal models of neurodegenerative diseases including Alzheimer's disease, Huntington's disease and Parkinson's disease.  These studies will help us understand the role of mitochondrial dysfunction and oxidative damage in the pathogenesis of neurodegenerative diseases. Another goal is to further develop novel neurochemical assays for assessing oxidative damage for use in clinical trials of new therapies for these diseases. Finally, our laboratory aims to gain knowledge of mitochondrial biology in different cell types to determine whether mitochondrial function is related to cell-type specificity in neurodegenerative diseases.  Our studies may contribute to developing new therapies for the treatment of human neurodegenerative diseases.
Achievements
We carried out extensive studies in the MPTP model of Parkinson's Disease (PD), which showed that therapeutic interventions with free radical scavengers, inhibitors of NOS, and coenzyme Q10 were efficacious. 
We utilized 3-nitropropionic acid to model HD in rodents and cell lines. 
Over the past several years, we made extensive use of transgenic mouse models of neurodegenerative diseases including PD. We developed transgenic mouse models of PINK1 deficiency, and a transgenic mouse with the R1441C mutation in LRRK2, which is linked to PD in man. 
We developed a number of treatments, which have shown efficacy in improving the behavioral phenotype, improving survival and reducing neuropathologic damage in transgenic mouse models of neurodegenerative diseases. 
We utilized analytical chemistry techniques to measure alterations in neurochemistry, energy metabolites and markers of free radical mediated oxidative damage. 
We utilized cell culture and cybrid approaches to measure mitochondrial function in vitro. These studies have been extended to research in human patients. We developed neurochemical assays for measurements of neurotransmitters and oxidative damage markers in plasma and cerebrospinal fluid. 
We developed plasma and CSF metabolomics, assays using HPLC with coulometric array detection to develop novel biomarkers for the diagnosis and assessment of treatment of AD, ALS, HD and PD.
Recent Publications
Yao J, Ho D, Calingasan NY, Pipalia NH, Lin MT, Beal MF. Neuroprotection by cyclodextrin in cell and mouse models of Alzheimer disease. J Exp Med. 2012 Dec 17;209(13):2501-13. PMID: 23209315
Dumont M, Stack C, Elipenahli C, Jainuddin S, Gerges M, Starkova N, Calingasan NY, Yang L, Tampellini D, Starkov AA, Chan RB, Di Paolo G, Pujol A, Beal MF.Bezafibrate administration improves behavioral deficits and tau pathology in P301S mice. Hum Mol Genet. 2012 Dec 1;21(23):5091-105.
Lin MT, Cantuti-Castelvetri I, Zheng K, Jackson KE, Tan YB, Arzberger T, Lees AJ, Betensky RA, Beal MF, Simon DK. Somatic mitochondrial DNA mutations in early Parkinson and incidental Lewy body disease. Ann Neurol. 2012 Jun;71(6):850-4. PMID: 22718549
Manji H, Kato T, Di Prospero NA, Ness S, Beal MF, Krams M, Chen G. Impaired mitochondrial function in psychiatric disorders. Nat Rev Neurosci. 2012 Apr 18;13(5):293-307.
Johri A, Calingasan NY, Hennessey TM, Sharma A, Yang L, Wille E, Chandra A, Beal MF. Pharmacologic activation of mitochondrial biogenesis exerts widespread beneficial effects in a transgenic mouse model of Huntington's disease. Hum Mol Genet. 2012 Mar 1;21(5):1124-37.  PMID: 22095692
Kriks S, Shim JW, Piao J, Ganat YM, Wakeman DR, Xie Z, Carrillo-Reid L, Auyeung G, Antonacci C, Buch A, Yang L, Beal MF, Surmeier DJ, Kordower JH, Tabar V, Studer L. Dopamine neurons derived from human ES cells efficiently engraft in animal models of Parkinson's disease. Nature. 2011 Nov 6;480(7378):547-51.
Henchcliffe C, Dodel R, Beal MF. Biomarkers of Parkinson's disease and Dementia with Lewy bodies. Prog Neurobiol. 2011 Dec;95(4):601-13.  PMID: 21983334
Beal MF. Parkinson's disease: a model dilemma. Nature. 2010 Aug 26;466(7310):S8-10.  PMID: 20739935
Joint Appointments
Department of Neurology
Collaborators
Dr. Anatoly Starkov 
Dr. Anthony Sauve 
Dr. Aurora Pujol 
Dr. Carl Nathan
Dr. Claire Henchcliffe 
Dr. David Eliezer 
Dr. David Mozley 
Dr. Dikoma Shungu 
Dr. Fred Maxfield 
Dr. Gary Gibson 
Dr. Lorenz Studer
Dr. Nicholas Schiff
Dr. Raj Ratan 
Dr. Samie Jaffrey
Focus Areas:
Neurodegeneration
Lab Head(s):
Beal, M. Flint
Lab Researchers:
Calingasan, Noel Y.