Conor Liston, M.D./Ph.D.
Assistant Professor of Neuroscience and Psychiatry
Mission
Our laboratory operates at the exciting interface between systems neuroscience and biological psychiatry.  Our mission is to define the circuit mechanisms by which neurons in the prefrontal cortex contribute to cognitive and emotional processes and to understand how they are disrupted in neuropsychiatric disease states. 
Lab Members
-Baila Hall (rotating graduate student)
-Rachel Moda (rotating graduate student)
Goals
We are investigating how diverse neuronal cell types interact within prefrontal microcircuits to mediate various cognitive processes; how they are modulated by monoamines and neurosteroids; and how prefrontal circuits function within systems-level networks.  We are particularly interested in how stress, sleep, and other circadian rhythms interact to regulate synaptic remodeling in corticolimbic circuits, especially during adolescence and young adulthood, when major psychiatric disorders most commonly emerge.  Our studies leverage a variety of optogenetic tools, two-photon microscopy and other imaging modalities, behavioral assays, and functional MRI in rodent models, healthy humans subjects, and clinical populations.
In the long-term, our work may help to explain how dysregulated synaptic remodeling contributes to circuit dysfunction and ultimately, to the pathogenesis of affective disorders and other neurospsychiatric diseases. This, in turn, may facilitate the development of new treatment modalities and prognostic biomarkers derived from a systems-level understanding of circuit dysfunction in neuropsychiatic diseases.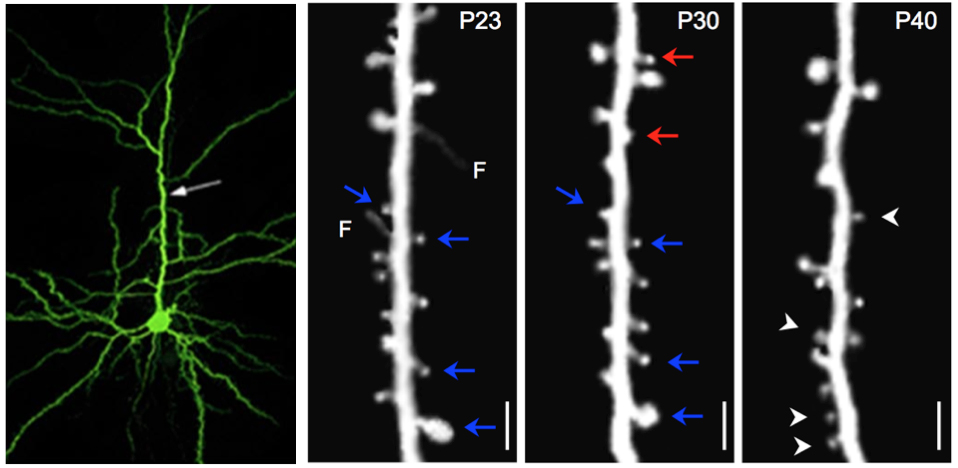 Recent Selected Publications
Liston C, Kagan J (2002). Memory enhancement in early childhood. Nature 419: 896.
Liston C, Watts R, Tottenham N, Davidson M, Niogi S, Uluğ AM, Casey BJ (2006). Frontostriatal microstructure predicts individual differences in cognitive control. Cerebral Cortex 16: 553-560.
Casey BJ, Tottenham N, Liston C, Durston S (2006). Imaging the developing brain: What have we learned? Trends in Cognitive Sciences 9: 104-110.
Liston C, Matalon S, Hare T, Davidson MC, Casey BJ (2006). Anterior cingulate and posterior parietal cortices are sensitive to dissociable forms of conflict in a task-switching paradigm. Neuron 50: 643-653.
Liston C, Miller MM, Goldwater DS, Janssen WGM, Rocher AB, Hof PR, Morrison JH, McEwen BS (2006). Stress-induced alterations in prefrontal cortical dendritic morphology predict selective impairments in perceptual attentional set-shifting. Journal of Neuroscience 26: 7870-7874.
Liston C, McEwen BS, Casey BJ (2009). Psychosocial stress reversibly disrupts prefrontal processing and attentional control. Proceedings of the National Academy of Sciences USA 106: 912-917.
Soliman F, Glatt CE, Bath KG, Levita L, Jones RM, Pattwell SS, Jing D, Tottenham N, Amso D, Somerville L, Voss HU, Glover G, Ballon DJ, Liston C, Teslovich T, Van Kempen T, Lee FS, Casey BJ (2010). A genetic variant BDNF polymorphism alters extinction learning in both mouse and human. Science 327:863-866.
Liston C, Malter Cohen M, Teslovich T, Levenson D, Casey BJ (2011). Atypical prefrontal connectivity in ADHD: Pathway to disease or pathological endpoint? Biological Psychiatry 69: 1168-1177.
Liston C, Gan WB (2011). Glucocorticoids are critical regulators of dendritic spine development and plasticity in vivo. Proceedings of the National Academy of Sciences USA 108: 16074-16079.
Liston C, Cichon JM, Jeanneteau F, Jia Z, Gan WB (2013). Circadian glucocorticoid oscillations are critical for learning-induced synaptic remodeling and maintenance. Nature Neuroscience 16: 698-705.
Liston C, Chen AC, Zebley BD, Drysdale AT, Gordon R, Leuchter B, Voss HU, Casey BJ, Etkin A, Dubin MJ (in press). Default mode network mechanisms of transcranial magnetic stimulation in depression. Biological Psychiatry.
Joint Appointments
Primary Appointment:  Brain and Mind Research Institute
Secondary Appointment:  Assistant Professor, Department of Psychiatry; Assistant Attending Psychiatrist (NewYork-Presbyterian Hospital)
Focus Areas:
Neurogenetics Neurodevelopment Systems Neurology & Computational Neuroscience Neuroplasticity
Lab Head(s):
Liston, Conor